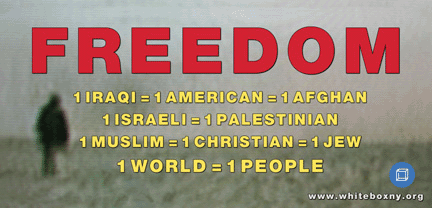 The FREEDOM billboard was installed during the war with Iraq.
MAPS & DIRECTIONS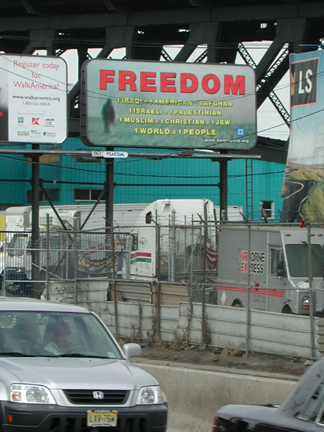 WHITE BOARDS
SPONSORED BY WHITE BOX
A BILLBOARD IN NEW JERSEY NEAR THE HOLLAND TUNNEL
TO BE EXHIBITED BY ARTIST JIM COSTANZO

FEBRUARY 26 THROUGH MARCH 23, 2003



Jersey City, NJ - Artist Jim Costanzo will unveil a billboard mounted outside the Holland Tunnel from February 24 through March 23, 2003, in conjunction with White Box, a New York City non-profit gallery. The 10 x 22 foot work, FREEDOM uses images that have been photographed from television footage of the war in Afghanistan.

The billboardıs text is designed to be seen at a distance with the meaning shifting as the viewer draws closer to the billboard. The viewer first encounters the word FREEDOM and upon approaching the billboard, additional text becomes visible:



F R E E D O M
1 Iraqi = 1 American = 1 Afghan
1 Israeli = 1 Palestinian
1 Muslim = 1 Christian = 1 Jew
1 World = 1 People



"The billboard is an attempt to engage the public in a discussion about human rights and the basic principles upon which this country was founded," notes Costanzo. "Historically the U.S. has been divided over who is entitled to 'unalienable rights.' Because of the governmentıs response to recent events both at home and abroad, it seems clear that those who hold true to the best of this country's original ideals must be heard."

FREEDOM is the first in a series of three billboards to be created by Costanzo, who envisions additional billboards entitled PEACE and JUSTICE placed throughout the metropolitan area and nationally.

Jim Costanzo is a New York-based artist who has shown his work in the U.S. and in Europe. He is a founding member of REPOhistory, an artist collective that makes site-specific public artworks based on issues of race, gender, class and sexuality. Last fall Costanzo created a multimedia installation titled datamap_2001.2 that dealt with the social and political climate of the last two years and was shown at the Annex, New York, which is affiliated with White Box. He teaches at Pratt Institute, Parsons School of Design and the International Center of Photography.





WHITE BOX 525 West 25 Street, New York, NY 10001
www.whiteboxny.org





COMMENTS -- SUGGESTIONS -- TAX DEDUCTIBLE DONATIONS


BILLBOARDS IN YOUR CITY?
HOMEPAGE